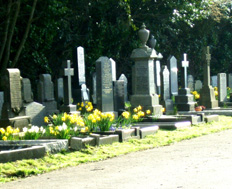 early sunday morning, back in thornton cemetery—this time at the west end of the long, straight, grave-lined avenue known as "the prom".
thornton cemetery is more park than cemetery, and the prom is one of the few areas containing graves. i was thinking i'd be the only [living] human being around so early in the morning, but i was mistaken.
i love the way the hard tarmac surface subtly transforms the acoustics here.