for today's entry, here's four tracks, all taken from one long recording made while en route from frizinghall railway station to bradford interchange, via forster square station and bradford city centre. i found the journey so interesting i couldn't bear to have just one short excerpt, so here's the highlights. four for the price of one. so to speak.



the GNER trains which run between london kings cross and bradford forster square are very posh, almost silent and extremely long. and always virtually empty on the last leg of the journey, from leeds to bradford. luxury.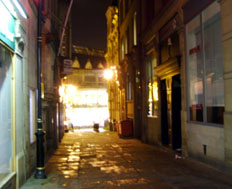 piece hall yard—the narrow street running from kirkgate down to the wool exchange. the lovely hushed acoustics were spiced up somewhat by someone's unfortunate mishap.



passing st george's hall [bradford's concert hall], & noticing signs of life, i thought i'd go in and see what was happening. the entrance was full of shakin' stevens fans, waiting for old shakey to finish his soundcheck. i hadn't realised the great man was gracing our city with his presence. shakin' stevens fans are a surprising bunch.



bradford interchange.
people say the strangest things sometimes.